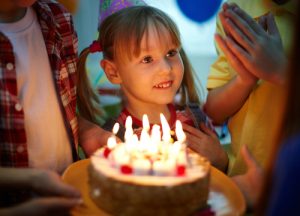 It's that time of year! Your child's birthday is upon you, and while he is excited about cake, games, and presents, you've got a project on your hands: namely, throwing a great party that makes him feel celebrated. Children's birthday parties can be a bit tricky. Navigating the etiquette around them is difficult, but our tips will make the process a bit easier.
The Guest List. You don't need to invite every child in your little one's preschool classroom to your party, but if you don't invite them all, kindly deliver your invitations outside of the childcare environment. Keep any birthday party talk away from school, so that no one feels left out. This can actually be a great opportunity to talk to preschoolers and older kids about not hurting other peoples' feelings. You may have waned to keep your child's party small and intimate, but that means that your child will have to take extra care to make sure that those who were uninvited do not feel ostracized.
The R.S.V.P. One of the most frustrating things about throwing a party is waiting for the R.S.V.Ps to roll in, and a child's birthday party usually means that an accurate headcount is in order. Not knowing how many children will be in attendance makes it difficult to plan the number of favors to prepare, and order enough food and cake. In fact, a lot of party venues require a headcount in advance. If a parent has not responded to your R.S.V.P. despite sending reminders, feel free to text or call that parent. They'll understand your need for information once their child's party comes around!
Gifts. Giving and receiving gifts can open up a few cans of worms at this young age. When very young children open gifts in front of their friends, they have the tendency to be honest about what they see inside. If they already have the item, or do not like what they see, they might announce it out loud. Plus, when little kids see another little kid opening a stack of presents, some jealousy can occur! You may want to reserve the opening of gifts for later, at home, after the party. Many parents are opting to ask on their invitations that guests abstain from giving gifts. This takes into consideration that many parents may not have the budget for children's birthday presents several times per year, and it certainly cuts down on the amount of stuff you'll accumulate at home!

Thank-You Notes. This is one of the most important parts of the birthday party. After all of the cake is eaten and the presents are unwrapped, send thank-you notes with your child's help. This will allow you to think about each child, what that child gifted to yours, and what you child appreciates about that gift. Once you've talked about it with your child, you can fill out the card together so you're your child takes part in this important expression of gratitude.
If you feel a little bit thrown by the traditions and rules surrounding children's birthday parties, you're not alone! Just a few careful maneuvers will make birthday party season run smoothly.