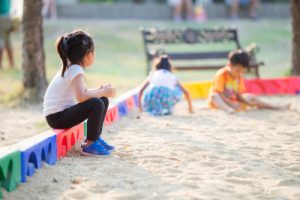 Many toddlers and preschoolers have a bit of trouble making friends at daycare. Even the most talkative, playful child at home can become a bit more reserved in a childcare setting. Children who are a bit socially anxious may avoid large groups of same age peers, may have trouble knowing how to converse with other kids, and may not always want to join in on the rambunctious fun their cohort is enjoying.
If your child is having a difficult time making friends, making conversation, or entering into play with other children at daycare, he may simply need a little bit of guidance from you. At home, role play a bit, giving your child "scripts" so that he can more easily take part in conversations, or invite other children to play with him. You can also encourage sharing, interactive play, and taking turns at home when you, or your child's siblings, play together.
Playdates are a great way to scale back play with peers so that your child feels more comfortable. If playing in an interactive way is difficult for your child in his childcare center's setting, try asking him which children he might like to see outside of school, and connect with their parents to arrange a playdate. You may even want to ask his teachers if there are particular children who are patient with introverted kids, or who will be more likely to welcome your child into play. These playdates can be a great opportunity to help your child think of a few games he might like to play in advance.
Remember to keep your expectations realistic. Some children are simply more introverted than others, just as many adults are. If your child makes some progress over the course of the year, and makes a few friends, consider it a win. He doesn't need to be the most popular child in preschool in order to be well-adjusted socially. Some kids are happy to play on their own for much of the day, only spending short periods of time with other kids. And a lot of kids make a few close friends but don't widen their circle beyond that.
Do you have an introverted or socially anxious child? What has helped him or her to break out of her shell a bit and make a few friends? Let us know in the comments section.