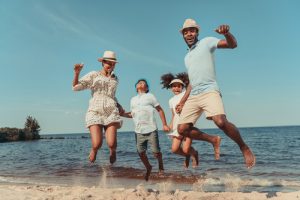 Whether you're headed to the beach for a week of sand and sun, giving in to the chaotic fun of a theme park, or exploring a new city or country for the first time, vacations are a time when you and your family may find themselves letting go a little. It's important to make vacation with your kids a little special and a little unexpected. But it's also important to keep schedules and behaviors as unchanged as possible, as it relaxes kids and ensures better behavior both on vacation and after your trip.
While it can be easy to find yourself staying out a little later each night after dinner, or let the kids sleep in while you yourself get some much needed rest, curb this as much as possible. Disrupting your child's sleep schedule too much while on vacation can cause you some trouble in the long run. When you return from your trip, you might find yourself with an out-of-whack toddler who no longer sticks to her schedule at home! While a late night here and there is bound to happen, try your best to keep your kiddo in bed on her usual schedule.
Good eating habits are hardly the hallmark of a family vacation. Eating on the road, filling up on ice cream at the beach, and stopping for local treats are all bound to happen while you're away. But just because you let your kids have a bit of candy on the airplane or some fast food on a road trip doesn't mean that you should let all of your meals become unhealthy. Try to make healthy meals the default.
Does your child have a comfort item that always makes him feel better at home? Whether it's a stuffed animal, a small lovey, or a favorite blanket, bring that item with you on your trip. Your child might find it soothing during stressful parts of your vacation, like flying on a plane or sleeping in an unfamiliar place.
Don't let bad behavior become the norm on vacation. It can be tempting to let things slide, to allow the kids to make a bit of a mess, to give in when they ask for things they shouldn't have. But this is setting their expectations beyond your typical limits and boundaries at home, and you might find that they begin to push back and misbehave upon your return.
How do you navigate family vacations so that your kids maintain their usual routines, schedules, habits, and behaviors? Let us know in the comments section!