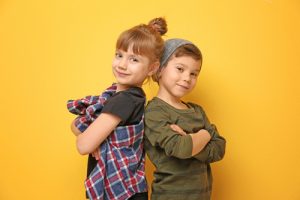 When you walk into your local big box store or clothing boutique for kids, what does it look like inside? Is there one section for boys, complete with t-shirts featuring trucks and monsters and messages about being "tough" or "naughty"? Is the girls' section filled with ruffles and odes to princesses? While some kids love the clothing marketed to their gender, others might be interested in some clothing that's a bit more neutral. One young boy we know loves purple and pink, and we know a couple of girls who prefer cars to princess crowns. Check out these new lines which offer clothing that crosses gender lines.
1. Svaha. Svaha believes that girls can do anything, and designed its line of cute and comfortable dresses, skirts, and tees to incorporate positive messages about science and math! They even carry matching clothing for adults who love a little science in their wardrobe, too!
2. Handsome in Pink. This line of boys' and girls' clothing crosses traditional gender barriers, with options for boys in pink and purple, and options for girls with empowering messages. Their options change regularly, as the shop comes up with new ideas all the time!
3. Jessy and Jack. Jessy and Jack believes in creating fun, kid-friendly designs that are completely gender neutral. They don't divide their clothing into "girls'" and "boys'" selections, opting instead to present their fun, colorful styles to both genders.
4. Budding Stem. Another science-friendly shop, this store has designs for girls who are interested in trains, planes, and trucks, but can never seem to find clothing that incorporates those themes into dresses or leggings. And the tees are so cute that your boy will want to wear them, too!
5. Free to Be Kids. Are you tired of boys' clothing that assumes all boys are "trouble" or "dangerous"? Free to Be Kids carries tees and other styles with positive messaging for boys and girls about kindness and empathy.
Do you think your kid will appreciate a few items of clothing that rock the world's expectations of them? If you've been on the hunt for gender neutral clothing, or clothes which defy gender stereotypes, let us know about what you've found in the comments section!